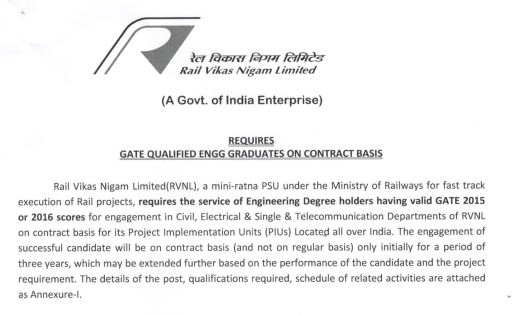 RVNL GATE SITE ENGINEERS(Civil/Electrical/Electronics):Rail Vikas Nigam Limited(RVNL), a mini-ratna PSU under the Ministry of Railways for fast track execution of Rail projects, requires the service of Engineering Degree holders having valid GATE 2015 or 2016 scores for engagement in Civil, Electrical & Signal & Telecommunication Departments of RVNL on contract basis for its Project Implementation Units (PIUS) Located all over India.
RVNL is Contract Based GATE PSU That Allows Freshers For Recruitment in Various Projects from Civil/Electrical & Electronics Branch with VALID GATE SCORE. GATE SCORE of 2017 is Not Required FOR RECRUITMENT in RVNL
The engagement of successful candidate will be on contract basis (and not on regular basis) only initially for a period of one year to be reviewed after one year based on the performance of the candidate and the progress of the project
RVNL Requires GATE SCORE of 2015 or 2016 Only. RVNL SITE ENGINEERS USING GATE 2015/2016 Scores Only
Qualification : B.E./B. Tech in Civil Engineering, Electrical Engineering & Electronics & Communication Engineering with valid GATE 2015 or 2016 Score.
Emoluments : The monthly remuneration of Site Engineer will be around Rs.27,000/-
ITI Limited Contractual GATE Engineers
Mode of Application:-
1) Candidates are required to fill up forms on-line on the RVNL website (www.rvnl.org). Please see the relevant page under "Opportunity/ Careers".
2) Candidates are advised to go through the instructions carefully while filling up from online to avoid errors/rejection.
3) The on-line facility will be open for a specified period/time for each of the Region (Refer Annexure l). Interested candidates must fill up the from within this specified time period.
4) Application beyond or before the specified period will not be accepted.
5) No applications need to be sent by post. Application if any sent by post will not be accepted.
Place of Posting : Selected Site Engineers will be posted in the field at any of the RVNL Projects located at various Project Sites in the States of various places in the States of
Maharashtra
Gujarat
Rajasthan
Madhya Pradesh
Chattisgarh
Chandigarh
Punjab
Himachal Pradesh
Uttar Pradesh
Uttarakhand
Jammu & Kashmir
Haryana and Delhi
West Bangal
Orissa
Bihar
All North Eastern States Tamilnadu
Karnataka
Andhra Pradesh
Goa
Pondicherry
Kerala & Telangana
Psus Not Recruiting Through GATE (Non GATE CPSE)
RVNL also reserves the right to post to other units in India as per its requirement. Only those candidates who are interested to serve Anywhere in India need apply.