MPKVVCL GATE Assistant Engineer Recruitment(NO-INTERVIEW):GATE 2015/2016 Score Based Recruitment in MPKVVCL.Assistant Engineer Trainee Electrical Distribution recruitment in Madhya Pradesh Poorv Kshetra Vidyut Vitaran Company Ltd on regular basis using GATE Scores only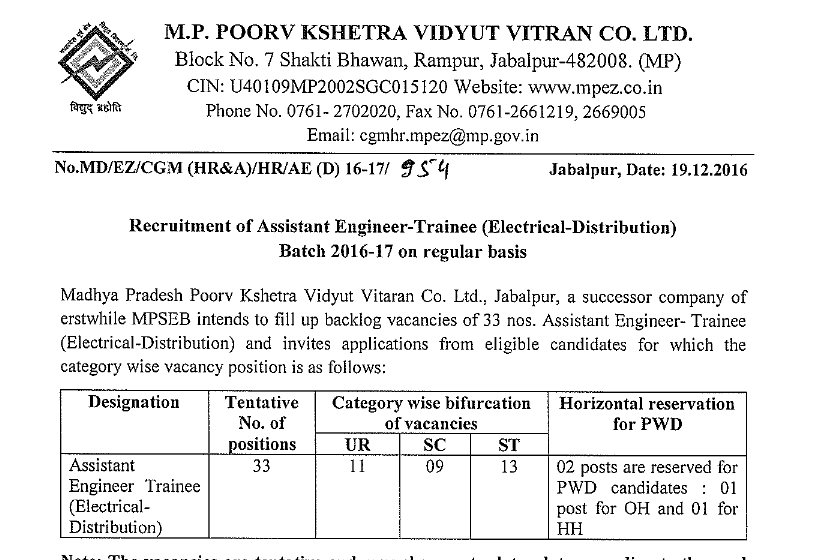 Total Number of Vacancy : 33 Posts (UR-11, SC-09, ST-13)
Educational Qualification : The candidate should be having full time regular BE/ B.Tech. or any equivalent degree in "Electrical" or "Electrical and Electronics" Engineering from a University/ Institution recognized by University Grants Commission/ AICTE
Minimum Qualifying percentage for Degree : (i) Minimum 60% marks or 6 CGPA in aggregate in case of Unreserved / OBC candidates of MP Domicile and candidates of all categories not having M.P domicile. (ii) Minimum 50% marks or 5 CGPA in case of SC / ST /PWD category candidates having M.P. domicile.
Note : The candidates appearing in Final Semester / Year examination may also apply, however, the candidates if selected shall have to produce the proof of having passed the final year / semester examination with minimum stipulated qualifying marks fur the respective category at the time of joining, failing which their candidature shall be cancelled.
Pay Scale: Rs.15600/-
Age Limit: 21-40 years
Application Fee: (i) Application fee for Unreserved / OBC candidates of MP domicile and candidates of all categories belonging to other states shall be Rs. 1500/- per candidate. (ii) Application fee for SC/ ST/PWD candidates of MP domicile shall be Rs. 1200/- per candidate. (iii) Payment of application fee can also be made in cash at MP Online kiosk. (iv) No extra charges shall he payable far crannies of photographs etc., to the kiosk apart from the portal charges.
Selection Process :
(i) Online application will be invited through MP Online. The selection will be done on the basis of QUALIFIED and VALID GATE SCORE CARD (as on 01.01.2017) in Electrical Engineering paper. The merit list will be prepared by MP Online based on the marks obtained in VALID GATE SCORE CARD (as on 01.01.2017) in Electrical Engineering. Based on this merit list candidates will be called for verification of original documents and thereafter the final selected candidates will be appointed provisionally as Assistant Engineer Trainee (Electrical-Distribution) on regular basis as per the Company's requirement.
(ii) If the marks secured by two or more candidates are same, selection will be based on date of birth in descending order i.e. older candidate will be placed first in the merit list.
(iii) The validity of the waiting list shall be one year from the date of declaration of result. However, the recruitment process may be closed for operation of waiting list by issuing specific order even before one year. After issuance of specific order of closure of the process, the claim of any candidate shall not be entertained.
GATE PSU Recruitment(PSUs Through GATE 2014/2015/2016/2017)
Note:Site has Some Problem in UPLOADING GATE SCORE CARD! Please Contact Help Line "0755-4019400