NLC India Graduate Apprentice Recruitment 2016:NLC India Ltd., a "Navratna" Public Sector Enterprise, Under the Ministry of Coal, earning profits for over three decades and poised for rapid growth in terms of Mining Activities and Power Generation, invites application for one year Graduate and Technician Apprenticeship Training under the Apprentices Act, 1961 in the following designated subject fields:-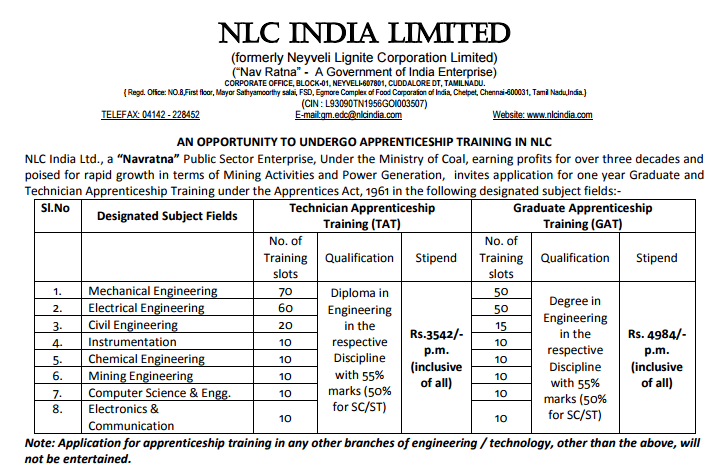 Technician Apprenticeship Training (TAT)
Qualification: Diploma in Engineering in the respective Discipline with 55% marks (50% for SC/ST)
1. Mechanical Engineering / 70 Posts
2. Electrical Engineering /60 Posts
3. Civil Engineering / 20 Posts
4. Instrumentation / 10 Posts
5. Chemical Engineering / 10 Posts
6. Mining Engineering / 10 Posts
7. Computer Science & Engg./ 10 Posts
8. Electronics & Communication /10 Posts
Stipend : Rs.3542
Graduate Apprenticeship Training (GAT)
Qualification:Degree in Engineering in the respective Discipline with 55% marks (50% for SC/ST)
1.Mechanical Engineering /50 Posts
2.Electrical Engineering/ 50 Posts
3. Civil Engineering/ 15 Posts
4. Instrumentation /10Posts
5. Chemical Engineering / 10 Posts
6. Mining Engineering /10 Posts
7. Computer Science & Engg. /10 Posts
8. Electronics & Communication/ 10Posts
Stipend :  Rs. 4984
Note: Application for apprenticeship training in any other branches of engineering / technology, other than the above, will not be entertained.
Method of Selection: Selection will be based on percentage of marks scored by the candidates in the qualifying Diploma/Degree, as the case may be.1. The percentage of marks obtained by the candidate in Bachelors degree / Diploma and as awarded in the final qualifying examinations will be calculated based on the practice followed by the University / Institution from where the candidates has obtained the Degree / Diploma
Engagement of Graduate (GAT) and Technician (TAT) Apprenticeship Trainees under Apprenticeship Act 1961
Candidates satisfying the above eligibility norms should submit their application through ONLINE REGISTRATION in NLC India Ltd., website (www.nlcindia.com) and take print out of Registration forms from 10.00 Hours on 21.11.2016 up to 17.00 Hours on 30.11.2016.
The Registration forms duly signed should be sent to The Deputy General Manager, Learning & Development Centre, N.L.C India Limited. Block:20. Neyveli – 607 803. so as to reach on or before 05.12.2016 by 5.00 pm enclosing the Self Attested copies of the following certificates :
i. Degree Certificates / Diploma Certificate /Provisional Certificate. ii. Consolidated (or) Semester – wise Mark lists of Degree / Diploma. iii. Community Certificate (in case of belonging to SC / ST / OBC). iv. Transfer Certificate. v. Proof for Physically Disabled person (PWD) (if applicable). vi. Format showing method of arrival of percentage of marks (can be downloaded)
View Details
Graduate Apprenticeship Trainees – Format
Technician Apprenticeship Trainees – Format