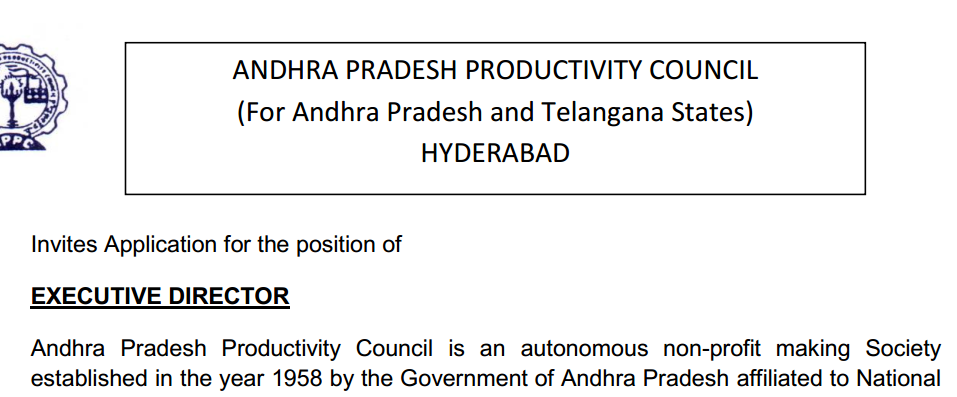 Andhra Pradesh Productivity Council is an autonomous non-profit making Society established in the year 1958 by the Government of Andhra Pradesh affiliated to National Productivity Council as one of the Local Productivity Councils in the Country under the Ministry of Commerce and Industry, Govt. of India, New Delhi.
Attributes : Thorough professional knowledge on Productivity and Industrial Engineering & Management and Computers. Dynamic personality with dedication,commitment, achievement, motivation, professional competence & Marketing.Outstanding organizational and Administrative abilities to motivate Team working and guide specialists (both full time and part time) to achieve budget, financial self support and growth. Should be capable of making strategic Action Plans envisaging the likely changes in the industrial / Govt. policies.
Qualifications :
 B.Tech (Mech)/Production Engg / Electrical Engg./Industrial Engg with 1st class
 Desirable M.Tech (IE) and MBA from reputed institution / university
 Should have proven track record with a minimum of 10 to 15 years of experience in the
relevant field out of which a minimum 5 years in a senior managerial position.
 Preference will be given to the person who has worked in similar organization or
industry of repute
Contract and compensation : The post will be initially for a period of 2 (Two) years on contractual basis with further extension based on the performance, which, shall be evaluated on regular basis and mutually agreed terms and conditions
Compensation : Consolidated salary of Rs.70,000/- to Rs.80,000/- per month including all allowances during the first year of contract and with an additional enhancement of 10% during the second year of the contract in addition to the Performance incentive of 2% over and above the Base Budget of each financial year i.e.; Rs. 250 Lakhs per year.
Please send your Application alongwith detailed resume, copies of certificates, two references
alongwith ecent passport size photograph and other relevant information as per the Application
form given in the website addressed to:
The Hony.Secretary
Andhra Pradesh Productivity Council
"Productivity House", Plot No.87
Road No.2, Banjara Hills, Hyderabad – 500 033
Tel: 040-23542827 / 23540289
Website: www.appc.in
E-Mail: [email protected]